Our chicken is just that...chicken. TVP and artificial fillers are forbidden words in our house so you can enjoy more, authentic protein.
Premium Ingredients
Backpacking noodles that keep their shape? We've figured out the secret. Plus, all our ingredients meet the same standard of texture, flavor, and nutrients.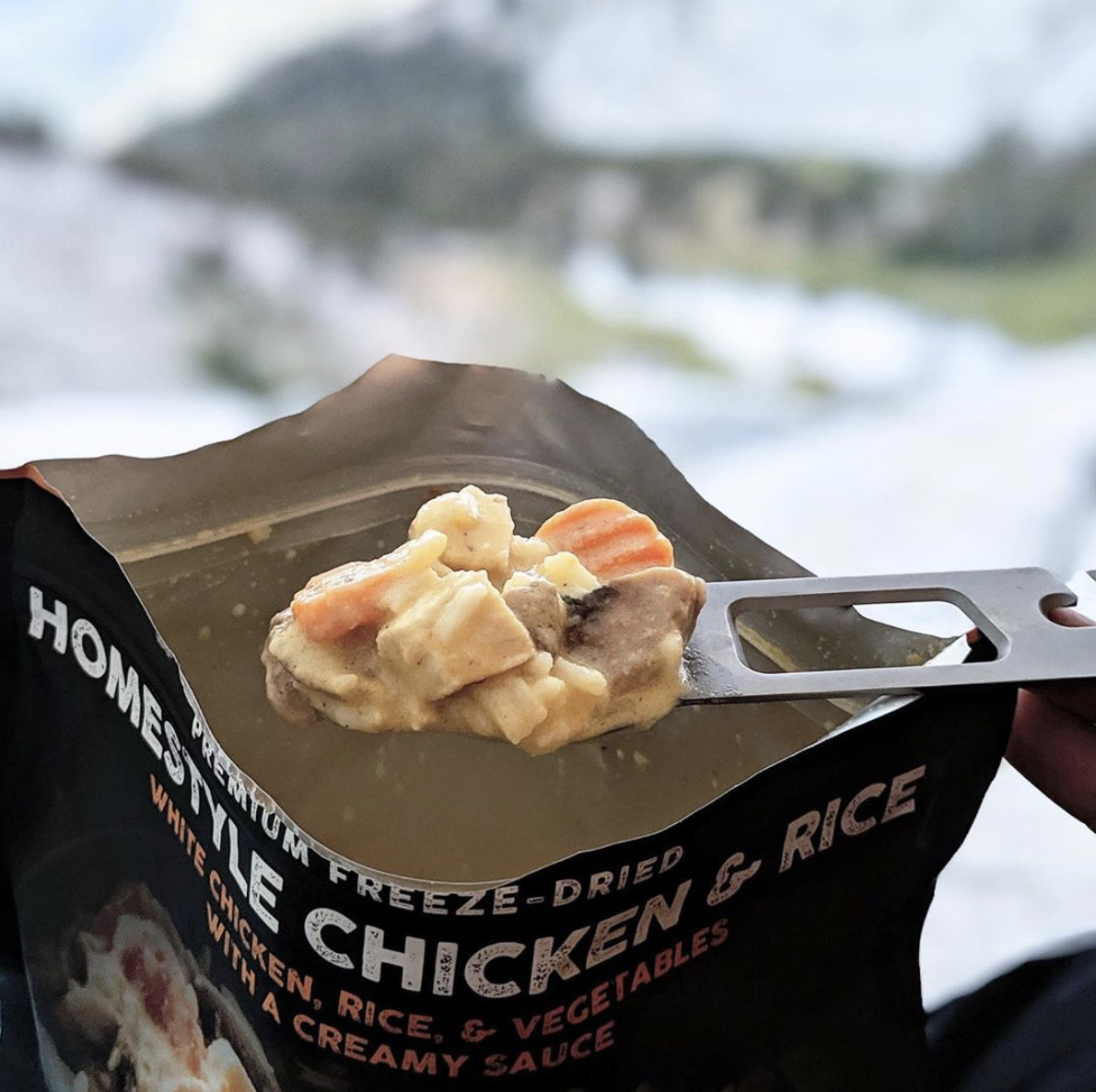 Boil less water, start eating faster. Just boil 8 oz of water and you're ready to go.
After a long day of following your compass, settle down with a homestyle dish with rice, real white chicken, carrots, and creamy sauce. Now how do we do that? By only using premium, freeze-dried, all natural ingredients that keep their shape, taste, and nutritional value. Giving you 40 grams of protein, 15% of your daily iron, and 30% of your daily calcium, just add 1 cup of water and restore your energy and get ready for the next stage of your adventure.
Protein – 40g per pouch
Servings - 2
Serving size – ½ pouch
Contains – Milk, Wheat
Net Weight – 5.15oz
Made & Packaged in the USA
Calories per Pouch - 740
Prep Time - 10 min
Ambassadors who love this
"While traveling on the road, climbing at the crag, or backpacking on the trail, having a reliable food source that's packed with the closest nutrient profile as a home cooked meal is so essential. Each activity demands high levels of stamina and Peak Refuel gives me the energy I need in order to climb at my hardest while crushing through hikes too. Also, did I mention the Breakfast Skillet is the BOMB.com? Try it. It's my absolute favorite!" - @emmelinewang
Emmeline Wang
"I love Peak Refuel so much! High protein, no GMOs and they taste delicious." - @adventuringwithkids
Amanda Edmonds
"There's a comfort in knowing I don't have to worry about making a warm meal after a long day shooting in the mountains, Peak has done all the hard work for me, and the fact it tastes amazing seals the deal for me." - @threepeakfilms
Bruce Wilson